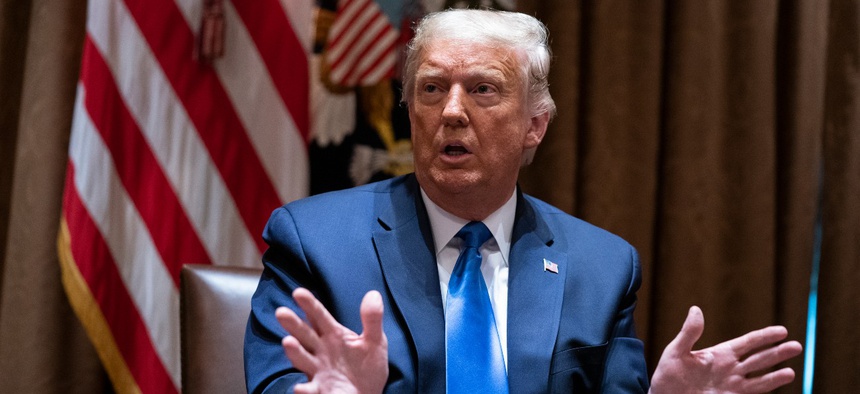 President Trump signed an executive order that covers federal agencies, contractors, grantees and the military.
President Trump signed an executive order on Tuesday evening that extends his crackdown on certain employee diversity and inclusion training for federal agencies, contractors, grant recipients and the military.
This order comes a few weeks after the Office of Management and Budget ordered federal agencies to redirect funding for certain diversity training for employees, which the administration deemed "un-American propaganda." The new directive targets training for all those involved with the federal government that is "rooted in the pernicious and false belief that America is an irredeemably racist and sexist country." It raised questions and concerns among experts and former government officials.
"Executive departments and agencies, our uniformed services, federal contractors and federal grant recipients should, of course, continue to foster environments devoid of hostility grounded in race, sex, and other federally protected characteristics," said the executive order. "But training like that discussed above perpetuates racial stereotypes and division and can use subtle coercive pressure to ensure conformity of viewpoint. Such ideas may be fashionable in the academy, but they have no place in programs and activities supported by federal taxpayer dollars."
The order requires that federal contractors not use employee training material that has any type of race or sex "stereotyping" or "scapegoating," send each labor union or collective bargaining representative a notice (provided by their contracting officer) that outlines their commitment under the executive order and include provisions from the executive order in all subcontracts or purchase orders, unless given an exemption.
If contractors do not comply with the order, their contracts could be "canceled, terminated or suspended" in part or in whole and they could be precluded from future federal contracts.
The Labor Department's Office of Federal Contract Compliance Programs will launch a hotline for complaints on contractors not following the order. It will then investigate and "take appropriate enforcement action" if necessary, said the order. Within 30 days of signing, the office will publish a "request for information" in the Federal Register for federal contractors, subcontractors and their employees to detail their diversity training programming.
As for federal agencies, the heads must review their grant programs and find ones for which they "may, as a condition of receiving such a grant, require the recipient to certify that it will not use federal funds to promote" race and sex stereotyping and scapegoating.
Agencies must also ensure that they do not use such training themselves, ask their inspectors general to review their compliance by the end of the year then annually thereafter and designate at least one political appointee to oversee their compliance with the order.
OMB and OPM will review agencies' adherence to the order and may issue supplemental guidance. Within 90 days, each agency must submit a report to OMB on their fiscal 2020 spending on training programs related to diversity and inclusion, indicating whether agency staff or a contractor conducted the program.
The attorney general should continue reviewing whether or not training that "teaches the divisive concepts" outlined in the order "contribute[s] to a hostile work environment and give[s] rise to potential liability under Title VII of the Civil Rights Act of 1964," which prohibits employers' discrimination on race, skin color, religion, sex, national origin or sexual orientation, the order stated. If needed, the attorney general and Equal Employment Opportunity Commission should issue guidance to help employers to promote workplace diversity and inclusion, consistent with Title VII, the order said.
OMB Director Russell Vought said that training sessions at the Veterans Affairs and State departments and Environmental Protection Agency have already been banned. Now, the order "is another important step that builds off his directive to agencies to stop trainings that push a radical anti-American agenda," he tweeted on Tuesday evening.
However, some outside experts were skeptical.
"This isn't procurement policy, it's base hate-mongering and political pandering," Steve Schooner, procurement law professor at The George Washington University and former Office of Federal Procurement Policy official, told Government Executive on Wednesday. "Moreover, it does exactly the opposite of its purported policy goals: it's inefficient, divisive, offensive and, frankly, beneath the dignity of the White House."
Joanna Friedman, a partner at the Federal Practice Group, a law firm that specializes in federal employment law, noted: "It is unclear whether this order will be upheld as lawful given the constraints it places on employers' speech and ability to manage in the workplace."
Stan Soloway, president and CEO of Celero Strategies and thOANNAe former president and CEO of the trade association Professional Services Council and Defense acquisition official, said he doesn't think the federal government should "interfere" in internal company practices.
"In my view, this directive is really just window-dressing (and I would personally argue remarkably tone deaf) for political benefit," he told Government Executive. "One analogy is ethics training. Every company has to do it; but the precise content and delivery of their training can be widely variant and tailored to their business."