Denying FBI's McCabe His Pension Would be Unusual, Attorneys Say
Posted By fedpractice || 19-Mar-2018
Denying FBI's McCabe His Pension Would Be Unusual, Attorneys Say
By Charles S. Clark | March 19, 2018 | 12 Comments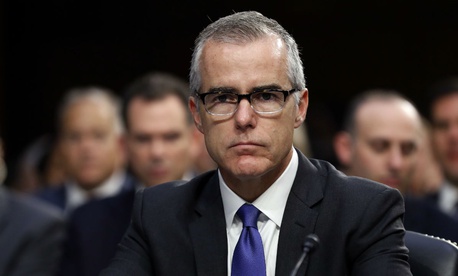 Then acting FBI Director Andrew McCabe testifies at a Senate Then acting FBI Director Andrew McCabe testifies at a Senate Then Intelligence Committee hearing on Dec. 23, 2017. Alex Brandon/APAttorney
Attorney General Jeff Sessions' Friday night announcement that he was firing 22-year FBI veteran Andrew McCabe may be plowing new ground in federal employment law, attorneys told Government Executive.
McCabe, the controversial former acting FBI director who put in his retirement papers in January after meeting with Director Christopher Wray about his conduct handling probes related to the 2016 presidential election, became eligible to collect a pension as of Sunday, March 18.
McCabe's attorney, former Justice IG Michael Bromwich, declined comment to Government Executive other than to confirm that McCabe turned 50 on March 18, a requirement for eligibility to collect his FBI pension based on his years of experience.
After he was caught in the ongoing partisan crossfire over the FBI's handling of investigations of the Trump and Clinton 2016 campaigns, McCabe was accused by the Justice Department inspector general of misconduct—reportedly related to improper contacts with the news media and misleading FBI investigators.
While the IG's findings have not been made public, the FBI's Office of Professional Responsibility—an ethics unit set up to be independent of the chain of command—recommended that McCabe be fired.
"In 99 percent of cases, a federal employee is not at risk of losing a pension, even when fired," said Joanna Friedman, a partner with The Federal Practice Group. "There's a misconception. The only exception is criminal conduct, which I don't think applies here." (Indeed, even in the case of Robert Hanssen, the FBI official proved to be a spy for Russia and sentenced to life in prison in 2002, his wife was deemed entitled to part of his pension, some $39,000 a year.)
"In my opinion, an employee 50 years of age and 20 years of service, should be able to get a pension whether retired or fired," Friedman added. "In my opinion, if you want to do retirement and have already put in retirement papers, there's no reason for the firing other than vindictiveness, to make some type of statement, which could be politics."
Denial of pension is "rare, and is typically only for cases of espionage or treason," said John P. Mahoney, a Washington federal employment lawyer. If he's a political appointee, (as McCabe was last year as acting FBI director), "he serves at the pleasure of the president," Mahoney noted. "But if he was a career civil servant for 20 years, he had due process rights to a proposed removal, access to the evidence relied on to propose the action, a reasonable opportunity to reply orally and in writing before receiving a written decision, which could not become effective for 30 days after the proposed removal was served."
As an FBI law enforcement employee, Mahoney added, McCabe would not be entitled to an appeal to the Merit Systems Protection Board. If he could prove discrimination, he might have a case at the Equal Employment Opportunity Commission, the attorney said.
Nancy Savage, executive director of the Society of Former Special Agents of the FBI, told Government Executive that McCabe comes under the Federal Employees Retirement System, "which is fairly portable, and he should be able to claim an annuity at 62 along with Social Security, which FERs employees pay into. He loses the ability to immediately claim federal retirement, which he would have been able to do under an early federal law enforcement retirement provision," she said. "He could claim a FERS annuity based on his current service [when he turns] 56 as well. Losing the law enforcement part of it means a significant loss of value to the annuity and it delays receiving it and also makes him ineligible for law enforcement annuity supplement."
Other FBI agents have been terminated for cause, "lack of candor being one of the possible causes for termination," Savage added. "Some resign and move into another career." She knows of one active agent who is currently under federal indictment in the District of Oregon "for not being truthful. The FBI looks on lack of candor issues as extremely serious matters."
FBI Agents Association President Thomas O'Connor said in a statement, "While the FBIAA does not comment on personnel matters, the association remains fully committed to ensuring that every FBIAA member is provided appropriate procedural protections. The FBIAA also strongly believes that personnel decisions should never be politicized."
Presumably of comfort to McCabe is the groundswell of support for him among Democrats and others who mistrust President Trump's attacks on him and the FBI more broadly. McCabe himself said last week in a statement that he is "being singled out and treated this way because of the role I played . . . in the aftermath of the firing of James Comey."
He already has a pension-saving job offer from Rep. Mark Pocan, D-Wis. "My offer of employment to Mr. McCabe is a legitimate offer to work on election security," Pocan said over the weekend. "I'd like to thank Mr. McCabe for his years of service to the FBI and our country. He deserves the full retirement that he has been promised, not to have it taken away as a result of the president's political games."
Asked about policies on pension rights for fired employees, an Office of Personnel Management spokesperson said on Monday, "OPM does not deny a request for retirement from an agency or individual when an individual meets the requirement (statute) and qualifies for retirement. Agencies are responsible for verifying eligibility for retirement and OPM confirms the eligibility upon receipt of the applications."
OPM's 1998-era retirement handbook—still in effect—lays out the possible reasons for termination that can reduce retirement benefits, including reductions in force, misconduct and unacceptable performance. "A discontinued service or involuntary retirement provides an immediate, possibly reduced, annuity for employees who are separated against their will," it said. "Whether a separation is voluntary depends on all the facts in a particular case; it is the true substance of the action that governs, rather than the methods followed or the terminology used."
The Federal Practice Group's Friedman said, "We are living in a dangerous time when the president of the United States foreshadows a career civilian's removal from service. His and the AG's actions demonstrate that the constitutional barriers designed to separate the presidency from the independence of our federal law enforcement agencies no longer exist and should cause great concern to all federal employees ability to independently fulfill their job duties."